SIMON SHAHEEN AND QANTARA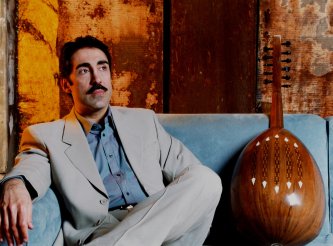 Saturday, September 1, 2007 at 8 PM
Tickets: $20 General Admission, $17 Seniors, $15 Members of the Windham Chamber Music Festival, Catskill Mountain Foundation or WMHT/WRHV-FM, $5 Students
Simon Shaheen dazzles his listeners as he deftly leaps from traditional Arabic sounds to jazz and Western classical styles. His soaring technique, melodic ingenuity, and unparalleled grace have earned him international acclaim as a virtuoso on the oud and violin.

Shaheen is one of the most significant Arab musicians, performers, and composers of his generation. His work incorporates and reflects a legacy of Arabic music, while it forges ahead to new frontiers, embracing many different styles in the process. This unique contribution to the world of arts was recognized in 1994 when Shaheen was honored with the prestigious National Heritage Award at the White House.

For the past six years Shaheen has focused much of his energies on Qantara. The band, whose name means "arch" in Arabic, brings to life Shaheen's vision for the unbridled fusion of Arab, jazz, Western classical, and Latin American music, a perfect alchemy for music to transcend the boundaries of genre and geography.

"I want to create a world music exceptionally satisfying to the ear and for the soul," says Shaheen, "This is why I selected members for Qantara who are all virtuosos in their own musical forms, and whose expertise and knowledge can raise the music and the group's performance to spectacular levels."
Simon Shaheen, oud and violin
Qantara