IN CONCERT: VLAD GIRSHEVICH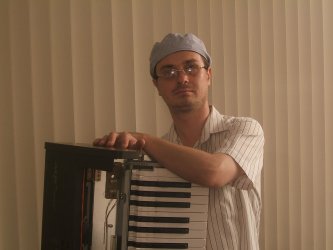 Saturday, January 13, 2007 at 8 PM
Tickets: $20 General Admission, $17 Seniors, $15 Members of the Windham Chamber Music Festival, Catskill Mountain Foundation or WMHT/WRHV-FM, $5 Students
The Uzbekistan-born jazz piano virtuoso Vlad Girshevich, now based in Denver, is one of the most in-demand musicians in Colorado and the Southwestern United States. Vlad graduated from the Uspensky School of Music, which is considered to be one of the paramount music schools in the former Soviet Union, and after studying classical music there for 11 years, he spent 2 years of study at the Tashkent Conservatory.

Vlad Girshevich immigrated to the United States in 1995 and was soon noticed by pianist Herbie Hancock, who gave the young musician a scholarship to the Thelonious Monk Institute of Jazz at "Jazz Aspen Snowmass."

Vlad has recorded two albums in Uzbekistan and five more after moving to the United States. His Solo Piano Live CD was recorded at the 2004 Santa Fe Jazz Festival, where Vlad was one of the featured artists along with such names as Michael Brecker, Gary Burton, Dave Holland, Eliane Elias and Arturo Sandoval. Currently Vlad Girshevich is performing with "Alive On Arrival" as well as teaching, performing solo recitals and working on various collaborative studio projects.
Vlad Girshevich, piano