ETHEL: 21ST CENTURY STRING QUARTET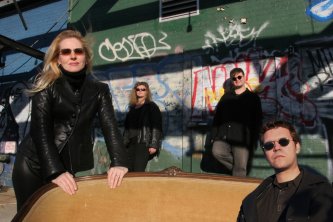 Saturday, August 11, 2007 at 8 PM
Tickets: $20 General Admission, $17 Seniors, $15 Members of the Windham Chamber Music Festival, Catskill Mountain Foundation or WMHT/WRHV-FM, $5 Students
Ethel, a 21st century realization of the classic string quartet, was formed in 1998 and, unlike most string quartets, plays with amplification and integrates improvisation into its performances. Its members include Mary Rowell and Cornelius "Neil" Dufallo, violins, with Ralph Farris, viola and Dorothy Lawson, cello.

All the members of Ethel are graduates of the Juilliard School of Music and have individually performed or recorded with the Chamber Music Society of Lincoln Center, the Orpheus Chamber Orchestra, the New York Chamber Symphony, Continuum, Bang on a Can, Sheryl Crow, Roger Daltrey, and Yo-Yo Ma's Silk Road Project.

The quartet has worked with contemporary composers Julia Wolfe and John Zorn, performing their complete string quartets, and the group's 2004-2005 season culminated with a 45-city U.S. and European tour with the rock musicians Joe Jackson and Todd Rundgren.
Ethel:
Mary Rowell, violin
Cornelius "Neil" Dufallo, violin
Ralph Farris, viola
Dorothy Lawson, cello